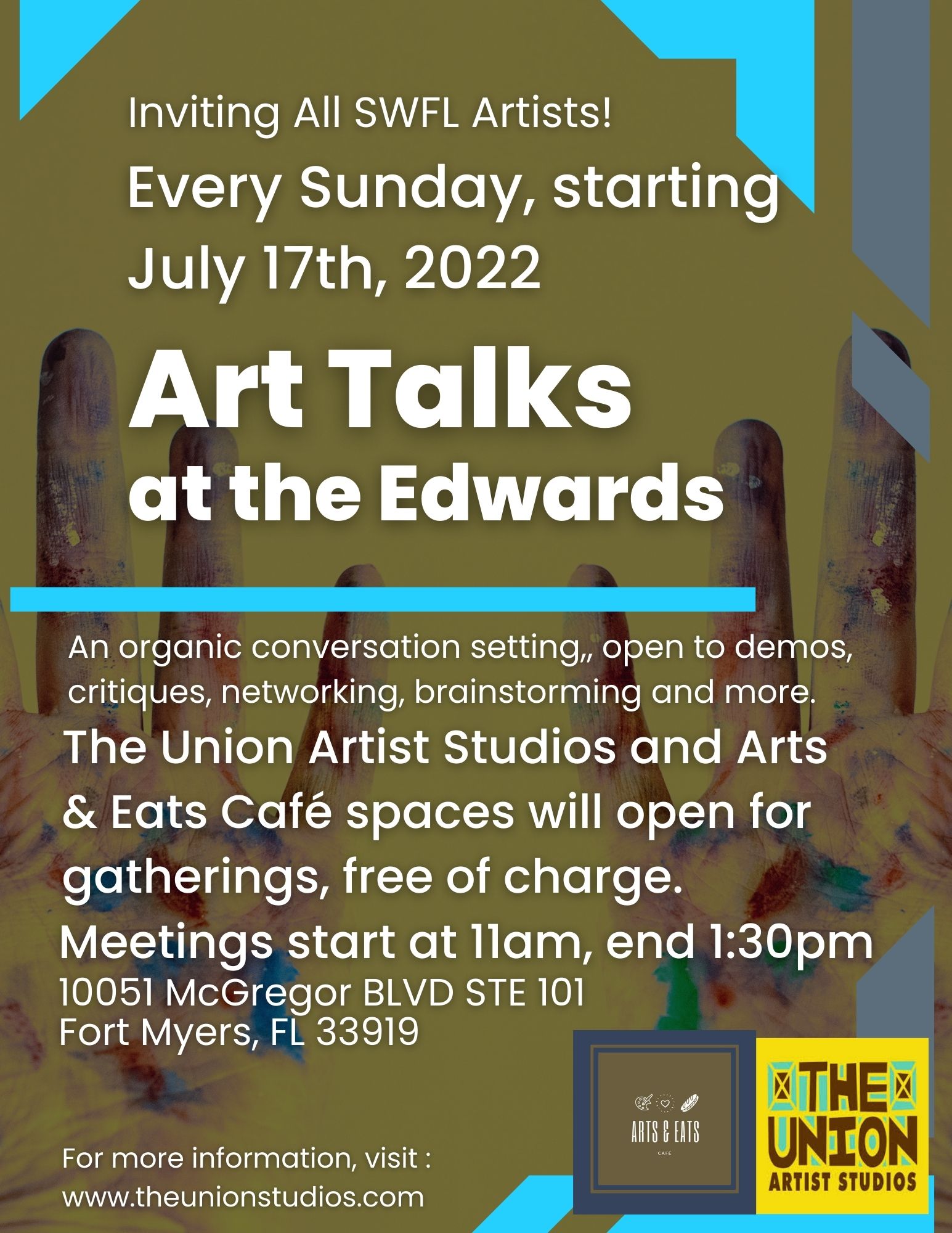 Art Talks at the Edwards
Starting Sunday, July 17th and every Sunday thereafter, all local artists are invited to a casual gathering, hosted inside the Arts & Eats Cafe at STE 101 of the Edwards Building.
The meetings start at 11am and attendees will be granted a semi-private space to gather, at no cost - where demos, conversations, art critiquing and network can happen freely and organically. There is no facilitator for these meeting, however artists are encouraged to introduce themselves, speak about their processes and share any information or ask questions.
The available space is to be used by the artists from 11am and until 1:30pm.
Anyone interested in hosting a topic or facilitate an artist meeting, please email us at acevedostudio@yahoo.com.
Some of the desired activities for these meetings are:
- Demos, preferably on small canvas or paper, protecting the areas to avoid damage to the surfaces.
- Portfolio presentations, sharing with others and asking for critiques or feedback.
- Art topics of concern or relevance, promoting conversations and interactions amongst the attendees.
- Technique/Medium exchange, if interested in showing off or promoting a particular product you use.
- Invitations, networking, artists' calls, etc., to find others who would want to join a group, exhibition or event.
- Artsy games, drawing or sketching wars, plain artful fun!
The space is for artists during these hours and the Union Artist Studios and Arts & Eats Cafe are eager to be your hosts!
See you on Sunday and bring your friends!
NOTE: Bring your appetite! The Arts & Eats Cafe is open on Sunday from 9am to 2pm.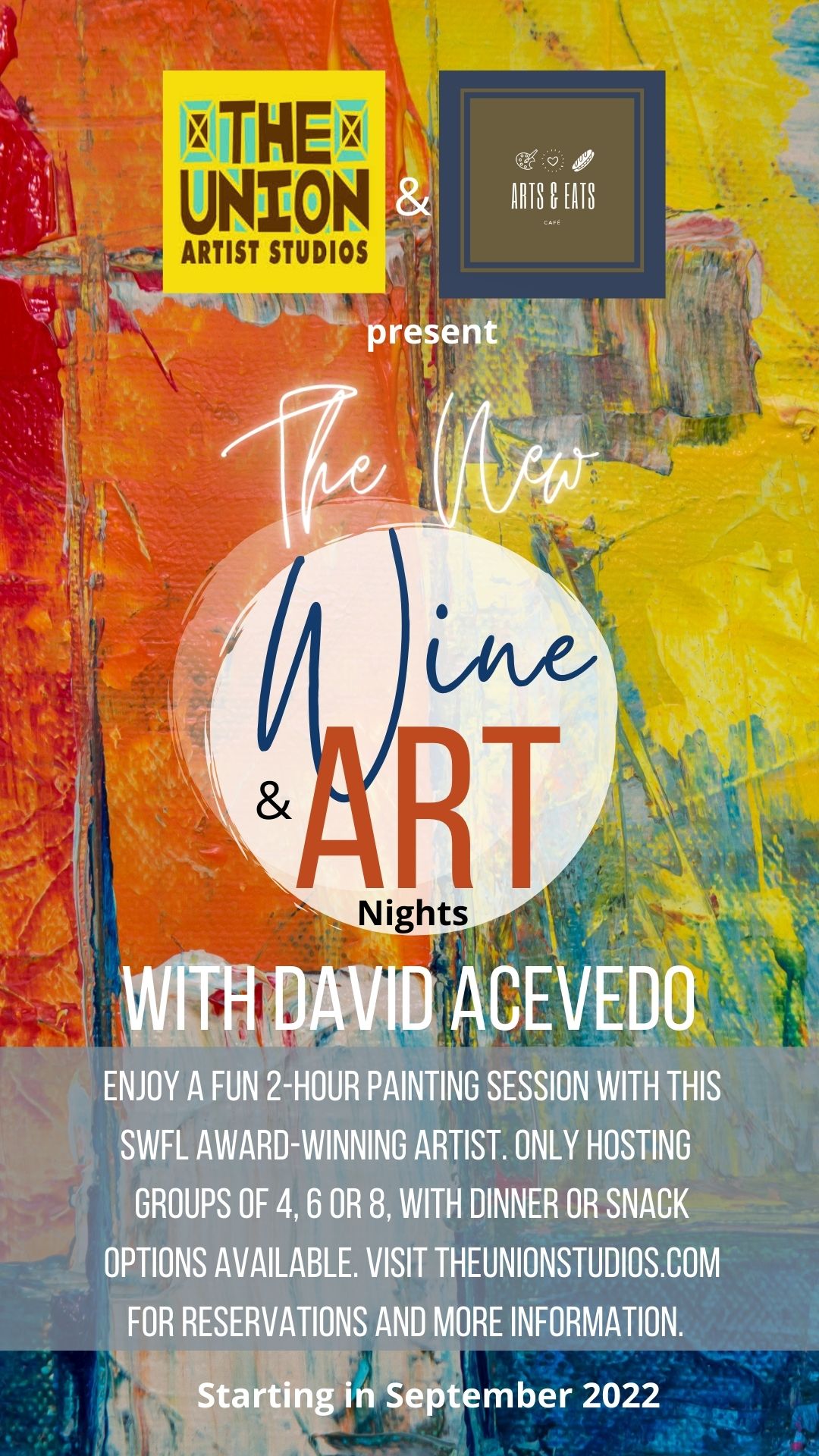 The Wine & Art Nights with David Acevedo return in 2022!
COST: $35 per guest - includes complimentary wine, paint and canvas. You take home your masterpiece!
NOTE: Please understand sign-ups are for an entire group, min of 4 guests.
This year, we are moving these follow-along and interactive paint parties to the Arts & Eats Cafe, located in the Edwards Building in the Alliance for the Arts campus at 10051 McGregor BLVD STE 101 in Fort Myers, FL.
Our set-up is a bit different now. Guests must first organize and secure their own group. Sign-ups are for a minimum of 4 guests. No single-person reservations are available. Maximum group size is 8, due to space limitations. Make sure to receive confirmation from all group members before signing up. Guests have the choice of pre-ordering dinner from our online menu, prior to arrival, or order snacks or soft drinks upon arrival or during class. No food, soft beverages or snacks will be allowed during the sessions. Guests are allowed to bring additional wine, to share. The artist provides red and white wine, as well as all materials for the class.
Please understand that the minimum amount of guests per sign-up must be present at the time of the event. Guests will pay the regular class fee of $35 at the beginning of each class, which includes complimentary wine and art materials. All types of payments are accepted. The cost of food or soft drinks is additional.
There is no cancellation fee, but we ask that notice of cancellation is received at least 24 hours before the scheduled event. Cancellation request should be sent by email to acevedostudio@yahoo.com.